Overstock.com Inc (NASDAQ:OSTK) missed out on this century's early "Dot.bomb" implosion. Yet OSTK stock may be repeating an important and painful lesson if history simply rhymes. But for momentum traders looking to press the market's latest investment craze, an Overstock bull call spread is well-priced merchandise for the occasion. Let me explain.
History appears to be repeating itself on Wall and Main Streets. The cryptocurrency trend has gotten to the point where otherwise normal folks far removed from ever contemplating idle investment talk, can be found musing what's next for bitcoin, Ethereum, Ripple, other ICO's or initial coin offerings — and even OSTK stock.
What does Overstock have to do with investing in the next big thing and in our view, an investment theme that's more than a bit ripe for a massive correction? It turns out, and pardon the pun, a good deal.
The online retailer is best known for offering furniture, housewares, sporting goods, jewelry and other various merchandise at deep discounts. But behind the scenes management at OSTK stock has been an early adapter and positioning itself to take full advantage of a still very nascent cryptocurrency market it expects to be huge.
Overstock's vision is best expressed by the company's Medici Ventures. As InvestorPlace's John Kilhefner detailed last month, this blockchain-focused unit has been quietly working on "six key areas of emerging crypto-industries." As noted, the most promising of these ventures may be the company's planned initial coin offering or ICO to fund the development of a new exchange to trade tokens licensed by the Securities and Exchange Commission.
So there you have it, or at least some of the narrative of what Overstock is now selling and what investors of all types, have been anxious to buy.
OSTK Stock Monthly Chart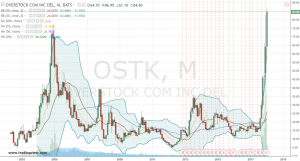 Click to Enlarge One item not for sale on Overstock.com, but something that sums up OSTK stock's price behavior of late, is jet fuel. Much like the cryptocurrency market, shares have rocketed higher in recent months.
In fact, while OSTK missed the Dot.bomb internet bubble with its late-to-the-party 2002 initial public offer, a gain in excess of 400% since August has just eclipsed OSTK's own fiery high set back in 2004.
What's next for OSTK stock? This strategist's view is any would-be investors need to tread very lightly as it relates to jumping on board shares at this juncture.
That's not to say Overstock can't ramp up even higher. And truthfully, with short interest in excess of 30%, those bears could act as their own worst enemy. Personally, though, I'm not a buyer of what OSTK is selling at these prices.
OSTK Stock Bull Call Spread Strategy
For those traders that are willing to make a more speculative wager on continued upside in OSTK stock, I'd suggest an out-of-the-money bull call spread. Vertical spreads like this are great as they reduce and define risk, as well as offer great bang for the buck if OSTK does continue to rally despite our words of caution.
Lastly, with OSTK stock's call and put liquidity on the weak side of things, this type spread is also good as it is simple spread with just two legs. As much, it has a reasonable chance of getting filled near fair value.
In saying that however, I'd strongly suggest using a limit order and risk not getting in on the action; rather than a market order that might cost you more than you bargained for.
Investment accounts under Christopher Tyler's management do not currently own positions in any securities mentioned in this article. The information offered is based upon Christopher Tyler's observations and strictly intended for educational purposes only; the use of which is the responsibility of the individual. For additional market insights and related musings, follow Chris on Twitter @Options_CAT and StockTwits.