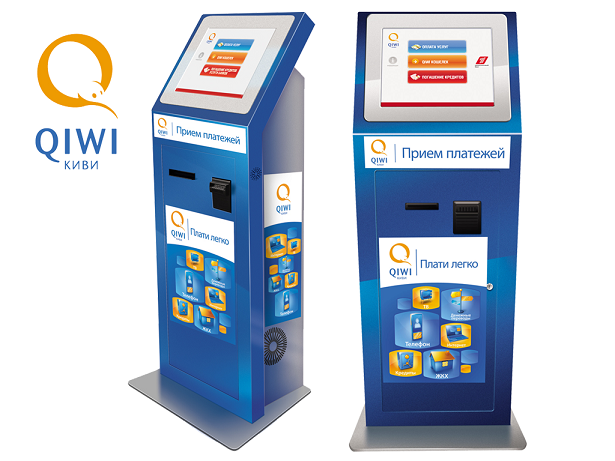 I was first made aware of Qiwi Plc (QIWI) by an article written by Situm here on SeekingAlpha. It peaked my interest and I decided to take a deeper look into the company. What I found really got me excited. I believe by the end of this article you will be excited too.
First, if you haven't read the article by Situm, please go and do so. But I will list the highlights of it here.
Qiwi has a profitable and growing payments network of 164,000+ kiosks.
Qiwi has been committed to Blockchain technology for years now.
Qiwi has a subsidiary named Qiwi Blockchain Technology [QBT].
Qiwi is a member of R3, an enterprise consortium of banks and technology companies that have built Corda – a cross-border payments Blockchain platform.
Qiwi's CEO, Sergey Solonin, is the head of the Russian FinTech Association. An initiative backed by the Russian Central Bank [RCB] to encourage innovation in Blockchain Tech.
Qiwi's shares were put to a June 9th tender offer of $28/share by Otkritie Holdings, which was a 19% premium to the trading price. The tender ultimately failed due to not meeting the required minimum amount of shares. Mr. Solonin refused to sell any of his shares. Mr. Solonin owns 22% of the shares, but due to a dual-class share structure, he controls nearly 60% of the voting rights. BRIEF-Otkritie to announce tender offer for Qiwi at $28/share
Qiwi Share Accumulation by Otkritie
What I want to talk about is the active accumulation of Qiwi's shares by Otkritie Holdings and Otkritie Bank.
Otkritie Holdings had ownership of 60% of Otkritie Bank before the Bank was 75% taken over by the RCB on August 29th of this year. The RCB now owns 99.9% of Otkritie Bank as of December 12th, 2017.
The Moscow Times had this to say on September 4th, "The odds of survival, however, were in Otkritie's favor for a number of reasons. First, the Russian Central Bank had named it a "systemically important" institution for the financial system. In other words, it was "too big to fail," and the state would come to its rescue.

Secondly, "there are too many people involved whose interests are very important," a government official recently told the media start-up the Bell. The official did not give names, but Otkritie's shareholders include the state-owned VTB, Russia's second largest bank, led by Andrei Kostin, as well as oligarch Alexander Mamut and IFD Capital owned by oil tycoon Leonid Fedun."
So Otkritie Bank was too big to fail and had a number of 'very important' people interested in it.
Otkritie Holdings has a fully owned subsidiary named Otkritie Investments Cyrpus Limited [OICL]. This is the business being used to buy up shares of Qiwi. Earlier this year, OICL held 142,201 shares according to an SEC filing on 05/31/2017.
However, by August they had accumulated 5,282,378 shares of Qiwi and sold them to Otkritie Bank through two transfers on August 25th and 29th.
The OICL then began accumulating more Qiwi shares as follows.
Oct 11 – Purchased 1,225,000 & 833,000 @ 985 Rubles
Ownership on 10/19/2017 = 4.88%
Nov 1 – Purchased 1,046,051 @ 1,000.45 Rubles
Nov 2 – Purchased 2,148,348 @ 1,000.4 Rubles
Ownership on 11/6/2017 = 11.96%
Nov 30 – Purchased 2,199,898 @ 938 Rubles
Dec 1 – Purchased 2,200,000 @ 938 Rubles
Ownership on 12/4/2017 = 21.73%
Dec 29 – Transfer to Bank Otkritie? – 9,652,297
Ownership on 12/29/2017 = 0.32% (142,201 shares)
Remember that Bank Otkritie was being run by a management team from the RCB from August 29th onwards. Here is Bank Otkritie's involvement in Qiwi shares.
Aug 1st & 2nd – Purchased 5,500,000 shares between $17.71 and $19.01
Ownership on 08/04/2017 is 21.05%
Aug 29 – Bank Otkritie bailed out and taken over by Central Bank by 75%
On December 12, 2017, in connection with the Stability Measures, the Bank of Russia acquired control of over 99.9% of the outstanding ordinary shares of Bank Otkritie. According to Order No. OD-3603 dated December 21, 2017, the Bank of Russia discharged the Provisional Administration. On December 21, 2017, the existing members of the Board of Directors of Bank Otkritie were replaced with new members elected by Bank Otkritie's shareholders. The Board of Directors of Bank Otkritie then appointed a new Management Board of Bank Otkritie.
Ownership on 10/19/2017 is 23.90%
Dec 19 – Purchased 992,058 @ 823 Rubles
Dec 20 – Acquired 9,652,297 @ 799.53 Rubles 'pursuant to an over-the-counter equity repurchase transaction.'
Ownership on 12/29/2017 = 47.53%
There has been no SEC filing specifically saying that OICL transferred or sold the shares to Bank Otkritie on December 20th, but the math leads me to believe that. Because from October 11 until December 1, OICL purchased exactly 9,652,297 shares of Qiwi.
Why would the OICL transfer shares to Bank Otkritie if they are no longer a part of Otkritie Holdings? The answer can be found in an article from the Financial Times on October 8th.
"There's a pretty serious intermingling of deals between the holding company [Otkritie Holding] and Otkritie Bank," Mr Zadornov said. "Since the scale of the problem is so great . . . the former owners will have to either pay off the loans on the assets or return them to the bank's balance," he said.

Otkritie Bank was previously owned by Otkritie Holding, whose shareholders include a mix of individuals and companies, including founder Vadim Belyaev, the owners of Lukoil, VTB and former Otkritie Bank chief Ruben Aganbegyan."
Ok, that had to pay the loans or give back the assets. But why was Otrkitie Holdings through OICL buying up shares of prices between 938-100 Rubles to only hand them over to the now 99.9% Russian Central Bank owned Bank Otkritie at a price of just 799.53?
Why not just pay the loans as it would be at least 15% cheaper? Did the Central Bank demand Qiwi shares specifically?
Even if Otkritie Bank got those shares to pay off a debt, they also purchased nearly 1 million shares. This was under the reign of the Provisional Administration team sent by the RCB. So the RCB purposefully purchased these shares by using their 99.9% owned Otkritie Bank. The same bank that is supposed to be shoring up their owned assets and deposits, not looking to grow further.
Why would the RCB be so interested in owning Qiwi?
In a kleptocracy like Russia, where laws are made so those in power benefit, I believe that I may know.
Qiwi and the BitRuble
Qiwi first pitched the idea of a Russian cryptocurrency, called the BitRuble, to the government and the RCB back in 2015.
Bitruble will be very similar to Bitcoin, but unlike any other cryptocurrency, it will be regulated by the Russian Central Bank. The bank will strictly control the emission and circulation of Bitruble to prevent it from being used for illegal transactions.

Russian law bans the issue of any currency not approved by the Central Bank of Russia.

Currently, the Central Bank and Qiwi are in talks considering the issue of Bitruble. The sides are working to adjust the decentralized issue of the cryptocurrency to the Russian law.
They had hoped to launch the BitRuble in 2016, but it has not come to pass due to the complexity of the issue.
But the bitruble also has defenders. The company's director of communications, Konstantin Koltsov, told The Moscow Times on Thursday that Solonin had discussed the new virtual currency with the head of the Central Bank — which would have to approve the bitruble before it could be launched legally in Russia — and the head of the country's biggest lender, Sberbank.

Both people argued for digital money on Thursday. Governor Elvira Nabiullina said the Central Bank would find a solution to enable its use, though she acknowledged the risks of illegal financial operations in virtual currencies, according to news agency Interfax.

Sberbank's German Gref told Interfax that he own Bitcoins — though he did not say how many — and said digital money should be worked with, not banned.
However, I believe that Russia will launch the BitRuble (or some variation) between Q3 2018 and Q1 2019. Allow me to speculate for a moment.
I am in firm belief that we are in the beginning stages of a fundamental change in our monetary system. That the reign of fiat paper money is ending. Banks across the world are working towards Blockchain currency networks and the switch will happen country by country. Governments will not give up control of the currency but will adapt to this new dynamic by having their own cryptocurrency.
If no other country launches their own cryptocurrency before this happens, it will make Russia the 3rd country in the world to do so, after Ecuador's Cryptocentavo and Venezuela's Petro. Qiwi would be the key processor of the BitRubles transactions, earning a percentage of every transfer.
This will be allowed by the government as the RCB will own a large stake in Qiwi. By having it run by Qiwi it will give the appearance to the populace that the government is not involved. Qiwi is a trusted payment processor for millions in Russia, giving access to online payments to those without traditional banks or credit cards.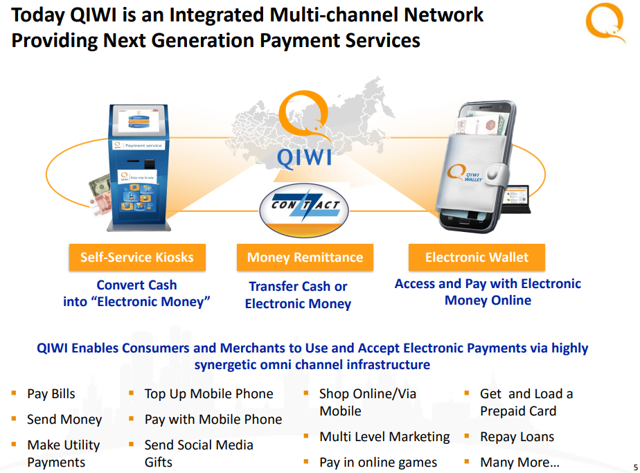 (Source: Qiwi Investor Presentation)
Qiwi has the infrastructure, through their 162,000+ kiosks, to bring the cryptocurrency out quickly and smoothly and they have a good reputation among the population.
Exactly what is needed for a successful nationwide BitRuble adoption.
Russian Cryptocurrency Laws
Currently, Russia has banned Bitcoin and other cryptocurrencies from being used within its borders. The Kremlin was even considering jailing people for 4-7 years who used or owned cryptocurrencies. This talk hasn't stopped citizens from using them though.
If you read the news over the past year, you see articles that appear conflicting about the future of cryptocurrencies in Russia. Many of which are talked about in this excellent article from The Verge. I suggest you read it in its entirety.
After years of ambiguous signals, Russian president Vladimir Putin finally clarified Russia's stance on cryptocurrencies last week with five presidential orders demanding officials set up a legal framework to handle digital currencies. The orders include plans to tax crypto miners, regulate ICOs, sandbox legislation for newly developed blockchain technologies, and an order that outlines the "formation of a single payment space," likely part of the digital ruble initiative that the Russian Central Bank has been pursuing. It's a surprising development that could solidify cryptocurrency acceptance within the Russian Federation.
It seems like the Russian crypto-tide is turning favorable. In a speech on June 9th, 2017 the Russian Central Bank Governor, Elvira Nabiullina said:
Finally, I will return to the topic of financial technology development – I have also spoken about this previously. The development of financial technologies will in large part determine the specific actions to be taken by us in the coming years. This will involve active joint efforts with businesses. Legislative support is also important here, particularly in terms of remote authentication, which will make new technologies and digital technologies possible. This implies a transition to electronic document workflow in the financial market. Here indeed we have a backlog, and we need to cross over to this new system in order to reduce costs for the financial sector and ultimately reduce the cost of credit. This will also result in cheaper loans.

We will be carrying out tests on the market of new technologies, such as distributed ledger technology based on a blockchain technology, and we have already begun this process in order to implement the regulation of new technologies rationally, protecting the markets from risks.
Masterchain and the Digital Economy
Russian President, Vladimir Putin, has signed laws initiating the 'Digital Economy.' He believes that throwing Russia fully into the Digital Age will boost the economy to new levels. That Russia will not be left out of this technological disruption like they were in the latter half of the 20th century when personal computers came into service.
I believe that the key changing point was 2017's St Petersburg International Economic Forum, or SPIEF, held from June 1 to June 3.
Government officers who were unconvinced by blockchain before SPIEF (or simply had never heard of it) were not afterwards. The blockchain panel session made it clear that developing the technology is now top of the Kremlin's priority list.

"Blockchain is now the number one task," First Deputy Prime Minister Igor Shuvalov, probably the third most powerful man in Russia, said at the session. "The president is completely ill with this idea and understands that … significant growth rates are based on the digital economy and technological leadership."
FinTech is the latest industry to be the focus of Putin, as this article from Forbes quoting Alexander Dunaev, COO at emerging markets FinTech company ID Finance states:
'The Central Bank supports the changes enthusiastically. We see this in the creation of a legal framework to embrace fintech – we can draw attention to the liberalization of remote identification rules and general infrastructure sponsoring. It will be helpful to keep building on top of the current momentum with the adoption of the PSD2 rules to liberalize access to data,' Dunaev said.

It could be said that Putin's endorsement of Ethereum, the more tried and tested of the blockchain cryptocurrencies, came after being left behind as Dunaev mentioned. However, again, there is a lot of concern surrounding the growth of blockchain because of Bitcoin's association with money laundering. 'The Russian judiciary treats bitcoins as the so called money surrogates which have previously been linked with fraudulent pyramid schemes and are now illegal for both companies and private individuals,' Dunaev said.

According to Bloomberg, Putin was attracted to Ethereum as a 'potential tool to help Russia diversify its economy beyond oil and gas'.
Ethereum-based Blockchain, you say?
The Bank of Russia has developed and tested on an Ethereum-based blockchain prototype called 'Masterchain' for financial messaging, to be used by banks in Russia. Participating financial institutions include Sberbank, Alfa Bank and Tinkoff Bank (which confirmed usage of Ethereum's technology) and Russian payments operator, Qiwi Group.
Conclusion
The first draft of the bill on cryptocurrencies was held on December 28:
"I expect that the adoption of the draft law on [cryptocurrencies] will be in March… The problem is that we already have a lot of people who acquire [cryptocurrencies] and they are deceived, we need to give people the opportunity to work legally with it, to protect them as much as possible," lawmaker Anatoly Aksakov was quoted as saying by RIA.
I have read that many people think that this means that all cryptocurrencies will be legalized in Russia. I think differently. It is in the above quote – 'protect.' How will you better protect your people than by owning the system?
I believe that Russia will not give up control of its currency. But that they see this new technology as something that they cannot altogether restrict or ban.
What they are doing is creating an Ethereum-based cryptocurrency from Qiwi's BitRuble and will make it the basis of all further Russian cryptocurrencies by using Ethereum's Smart Token technology. No other cryptocurrencies will be authorized and the State will ensure that businesses accept the new digital ruble.
BitRuble will be the foundation, and Russians can freely create any type of token or crowdfunding investment on top of it.
And the Bank of Russia and those 'very important' people with interests in Otkritie, and through them, Qiwi will be there taking their cut.
I believe that the accumulation of Qiwi shares shows that something very big is happening with the company and those in the know are buying. They are also keeping this news under wraps so they can accumulate at lower prices.
If Qiwi's BitRuble is launched and what I believe is true, Qiwi shares could trade above $45. You would own a piece of each cryptocurrency execution in Putin's planned digital economy. Qiwi currently charges 1% to the buyer and 2% to the seller on transactions using their network, a total fee similar to PayPal (PYPL).
If not and Qiwi continues business as normal, based on recent acquisitions and the SOVEST project, revenues are expected to increase between 30-50% in 2018. This would support a share price of $22, not factoring additional future growth and without any Blockchain or BitRuble news, a 27% gain compared to the closing price on December 29.
Disclosure: I am/we are long QIWI.
I wrote this article myself, and it expresses my own opinions. I am not receiving compensation for it (other than from Seeking Alpha). I have no business relationship with any company whose stock is mentioned in this article.