My Cryptocurrency Journey To Date
I have been studying cryptocurrencies like Bitcoin and Ethereum for over a year, and I am still a long way from being a "true believer." One really smart person that I follow calls Bitcoin a "digital illusion of wealth," and to some extent I agree. On the other hand, one might also say that the entire fiat money system is also a "digital illusion of wealth." Our bank statements, retirement and brokerage accounts are just digital numbers in a custodian's computer.
I see big risks with cryptocurrencies: structural, financial, legal and otherwise, which I won't outline in detail here.
Nevertheless, even the harshest critics of cryptocurrency see merit in blockchain technology, and we might all agree that we are on the cusp of another digital revolution where blockchain forms the basis of new contracts, new transactions, and new voting systems, etc.
Seeing the blockchain revolution on the horizon is one thing. Picking the winning horses in this pending revolution is another. I always avoided the Bitcoin Investment Trust (OTCQX:GBTC), because it traded at such a large premium to its underlying assets. I believed whole-heartedly that the launch of Bitcoin futures would diminish or eliminate the GBTC premium, and that is exactly what has happened.

How to Invest in the Cryptocurrency Revolution?
There is a dizzying array of choices, so many different coins and ICOs – and probably many scams. In addition, there is a massive learning curve in understanding why and how the blockchain works. I imagine that many (most?) investors in crypto don't fully understand what they are investing in. As a result, it can be confusing how to begin investing in this space.
I opened a Coinbase account earlier in 2017, and took a small position in two cryptocurrencies. After two weeks of extreme price volatility – along with Coinbase outages at the worst possible moments – I pulled everything out after doubling a small investment. During this time, I had attempted to download the Ethereum blockchain to one of my computers – and it never fully downloaded after 3 days. As a result, and at the moment, I don't want to own the "physical" token coins. Nor do I want to keep my computer open to potential hackers 24/7 while it downloads any blockchain.
The other big risk I see with cryptocurrencies relates to Anti-Money Laundering laws. Even though cryptocurrencies advertise as being anonymous, that is not always the case. By purchasing a bitcoin or other token, someone might inadvertently be facilitating terrorism or helping nefarious actors launder their money.
Small Position in HIVE Blockchain Technologies
I have found a way that I believe enables me to participate in the potential upside of this revolution, while minimizing personal and legal risks. I have taken a small position in Hive Blockchain Technolgies (OTCPK:PRELF), which is listed on the Toronto Stock Exchange as HIVE and the US OTC market as PRELF. I am a complete novice in cryptocurrencies, so I encourage everyone to do their own research and get comfortable with their own risk/reward profile before joining me or anyone else in any cryptocurrency investment.
Earlier this year, I had a conference call with Frank Holmes, the Chairman of HIVE and the Chairman of US Global Investors. He had set up a conference call with me earlier this year to talk about US Global's gold miner's ETF, the GO Gold Gold Miner's Fund (GOAU). Frank is very intelligent, seems to have boundless energy, and knows the precious metals market inside and out. It impresses me when statesmen like Frank Holmes can distill wisdom in a few phrases, and I agree with Mr. Holmes' view on investment allocation in precious metals (10% allocation) and cryptocurrency (1% allocation). At the end of the day, all investment requires trust, and from what I have seen, I trust and believe in the Chairman of HIVE.
Moreover, the talking points of an investment in HIVE Technologies make sense to me:
HIVE is currently the only publicly-traded cryptocurrency mining company
By mining and selling only "virgin" coins, HIVE will likely limit its risks from anti-money laundering laws and related risks.
HIVE has the ability to be nimble and mine the coins that they believe will have the most potential and future utility. I trust that they and their partners have a better understanding of the myriad of cryptocurrency tokens coins than I ever could.
The company is already cash flow positive.
The company has developed and will likely develop more industry partnerships with reputable actors.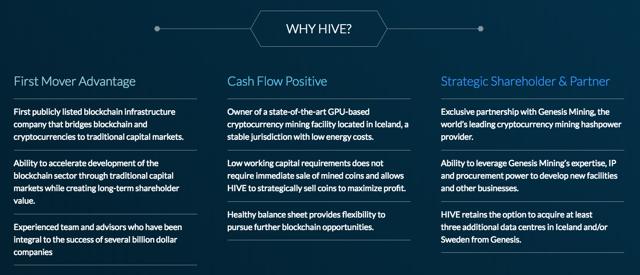 Source: Hive Blockchain Technologies
Appendix
The two best instructional videos that I have yet seen on cryptocurrency and Bitcoin are linked below.
This video of an interview with Ari Paul is the most compelling case that I have yet seen for cryptocurrency in general. Mr. Paul is a former Wall Street bond trader, and his discussion on "failure to deliver" in the bond market shows a great use case for blockchain technologies.
This video interview with Roger Ver (aka "Bitcoin Jesus) compares the utility of Bitcoin core and Bitcoin cash. Mr. Ver is bullish on the future utility of Bitcoin cash, and less bullish on the utility of Bitcoin "core," the asset on which the new futures contracts in CBOE and CME Group are based.
Disclaimer
This article was written for information purposes, and is not a recommendation to buy or sell any securities. I never intend to give personal financial advice in this newsletter. All my articles are subject to the disclaimer found here.
Disclosure: I am/we are long PRELF.
I wrote this article myself, and it expresses my own opinions. I am not receiving compensation for it (other than from Seeking Alpha). I have no business relationship with any company whose stock is mentioned in this article.
Editor's Note: This article covers one or more stocks trading at less than $1 per share and/or with less than a $100 million market cap. Please be aware of the risks associated with these stocks.